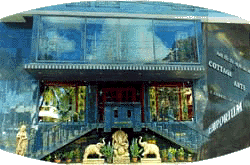 Every visit to Cottage Arts Emporium is a memorable experience. A pilgrimage into the haven of the gods. A trip in the machine. A jaunt into a new world. Come share with us the very joy of living. Adorn your home or workplace with a piece of unearthed from a treasure trove of unimaginable magnificence. Discover your true feelings, your inner self, the you in you- and give your emotions the gratification of a totally satisfying expression.

CONTACT :
1. 29, T.T.K Road, Alwarpet, Chennai-600 018, INDIA.
Telefax : 91-44-24661951 / 24661959 / 24661960.
2. 36, North Chitrai Street, Madurai-625001, INDIA.
Telefax : 91-452-2623614 / 2622491 / 2627050.
Email : cae_india@yahoo.com