Strictly for the connoisseur. For the lover of art, beauty and style. For those who truly appreciate the intrinsic and most enchanting pleasures of life. Painted furniture from the desert artisans of Rajasthan.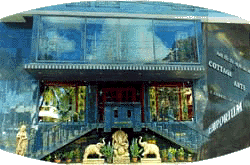 Scintillating Jharokas, carved doors and wooden chests with brass trimmings. Unbelievably intricate inlay work, coffee tables from Agra, exquisite Tibetan tankhas and sandalwood carvings with their characteristic dreamy perfume.

The very name evokes visions of hitherto unexplained mysticism. Of Gods, sprits and devastatingly beautiful damsels. Of creative talents that surpasses all manner of human imagination. And of uncanny wisdom that transcends every hypothesis of scientific rationale. All this beauty, talent and wisdom have been handed down the generations in various forms. Fortunately, we still have this collective store of wealth, represented in a myriad of classical depictions. On wood. On metal. On stone, glass and cloth.